Wild Amur leopard spotted in Jilin province
2023-02-08 | chinadaily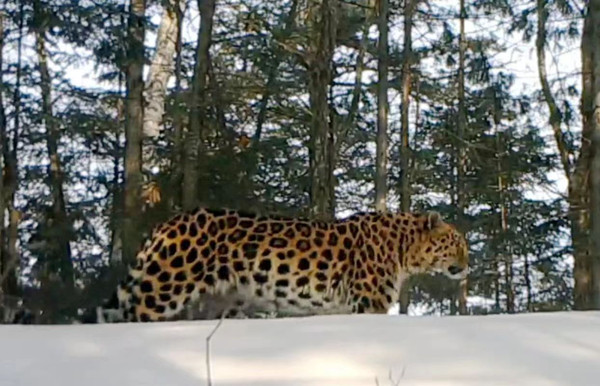 A wild Amur leopard goes on the prowl in Jilin province. [Photo by Yan Changcai/For gojilin.gov.cn]
  Images of a wild Amur leopard, a critically endangered animal, were captured recently by multiple infrared cameras set up in the Tianqiaoling Forest, located in Northeast China's Jilin province.
  The leopard is on the red list of threatened species maintained by the International Union for Conservation of Nature.
  The frequent appearance of wild Siberian tigers nowadays means that the number of those animals at all levels in the entire ecosystem there is considered sufficient, providing an adequate food chain for the big cats.
  But the Amur leopard is a national first-class protected animal that is more endangered than the Siberian tiger. It is only to be found in relatively narrow broad-leaved forests and mixed coniferous and broad-leaved forests in the border areas between China and Russia. It is the subspecies with the highest latitude and the northernmost distribution of all the leopards.
  The Northeast China Tiger and Leopard National Park, which was launched in 2021 – bordering Russia and the Democratic People's Republic of Korea – is home to the largest wild Siberian tiger and Amur leopard populations in the world.
  It has historically been home to large numbers of both species and is the only area with a permanent wild population and breeding families.