Xinhua Headlines: China sees New Year consumption recovery, eyes 2023 growth
2023-01-04 | Xinhua
On the last day of 2022, over 59,000 tourists visited Shougang Park in Beijing's Shijingshan district. The figure was 3.6 times higher than normal days -- reflecting the strong desire of citizens for travel.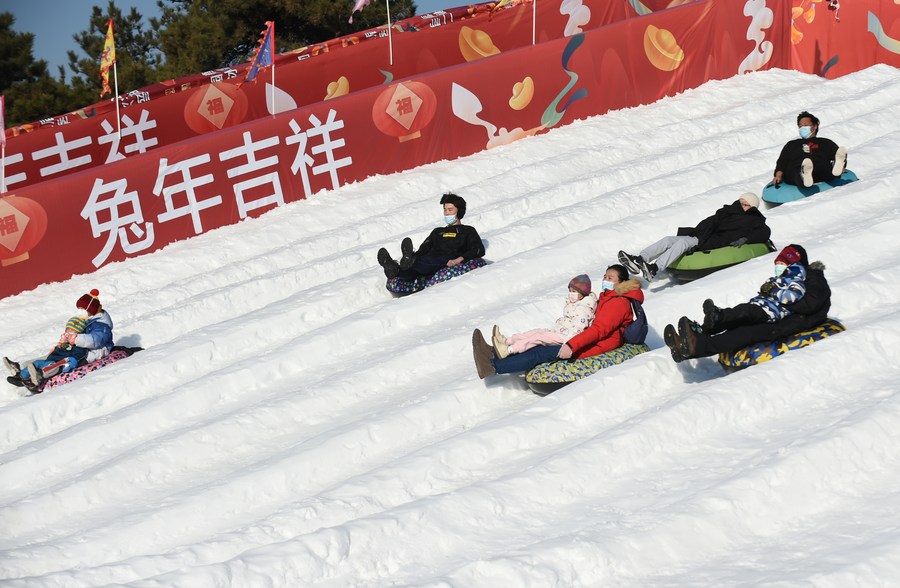 Visitors have fun during the ice and snow festival at Yuanmingyuan Park in Beijing, capital of China, Dec. 31, 2022. (Xinhua/Luo Xiaoguang)
  The ice and snow economy has also revived with the change of seasons. Beijing, the city that hosted the Winter Olympics last year, opened all five municipal ice rinks and snow resorts during the three-day New Year holiday.
  Parks including Summer Palace, Beihai Park and Yuanmingyuan Park, have launched ice and snow entertainment activities, which attracted more than 50,000 tourists during the holiday.
  Exhibitions in museums also proved popular punch-in projects during the holiday.
  Gu Ying, deputy director of Miaoying Temple management office, said that about 2,000 visitors entered the temple in three days, which basically recovered to about 60 percent of the usual visitor flow.
  Tourists also drove consumption -- the museum sold 737 pieces of cultural and creative products during the holiday -- with sales revenue reaching about 48,000 yuan (about 6,909 U.S. dollars).
  People have fun on the ice rink at Beihai Park in Beijing, capital of China, Dec. 31, 2022. (Xinhua/Chen Zhonghao)
  Apart from parks and scenic spots, shopping malls and restaurants in Chinese cities also buzzed with consumers.
  According to the Shanghai Municipal Commission of Commerce, from Dec. 23, 2022 to Jan. 28, 2023, the city will organize more than 100 consumer promotion activities and provide a large number of commodity discounts.
  The Bund, Yu Garden and Nanjing Road pedestrian street, all saw strong growth in tourist numbers.
  Nanjing Road pedestrian street has issued 30,000 coupons, offering discounts of 50 yuan, to encourage shoppers to spend at department stores and restaurants.
  During the three-day holiday, popular crayfish restaurant Huda on Guijie Street in Beijing, saw customers still in a queue for a table to satisfy their cravings at 3:30 a.m.
  People dine at a restaurant in Beijing, capital of China, Jan. 1, 2023. (Xinhua/Ren Chao)
  Zhang Shengtao, director of operations at Huda, said the three branches of Huda received about 11,000 customers in three days, with more than 1,000 tables in queue at peak times.
  The operating income of Huda during the New Year holiday increased by 15 percent year on year, said Zhang.
  China recorded roughly 52.7 million domestic tourist visits during the three-day New Year holiday -- up 0.44 percent year on year, according to the Ministry of Culture and Tourism.
  The tourism revenue generated over the holiday reached over 26.5 billion yuan, up 4 percent from the same period last year, according to the ministry.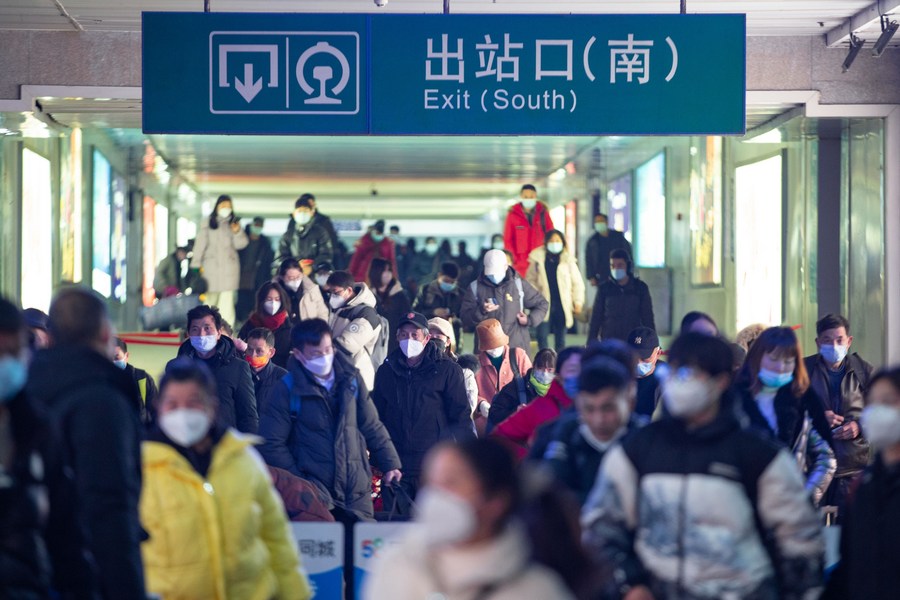 Travelers walk out of Nanjing Railway Station in Nanjing, capital of east China's Jiangsu Province, Jan. 2, 2023. (Photo by Su Yang/Xinhua)
  Short-distance tours were especially favored by travelers during this period, and the data also shows a steady recovery in the country's medium and long-distance travel levels, the ministry said.
  According to data released by Chinese travel service and social-networking platform Mafengwo, the popularity of medium and long-distance travel increased by 172 percent from the previous month. Tourists mainly came from Beijing, Shanghai, Chengdu, Guangzhou and Shenzhen.
  Some online travel agencies reported a marked increase in ticket bookings for cross-border tourism over the holiday.
  Data from Trip.com Group showed that the number of orders for outbound flight tickets during the New Year holiday soared 145 percent year on year.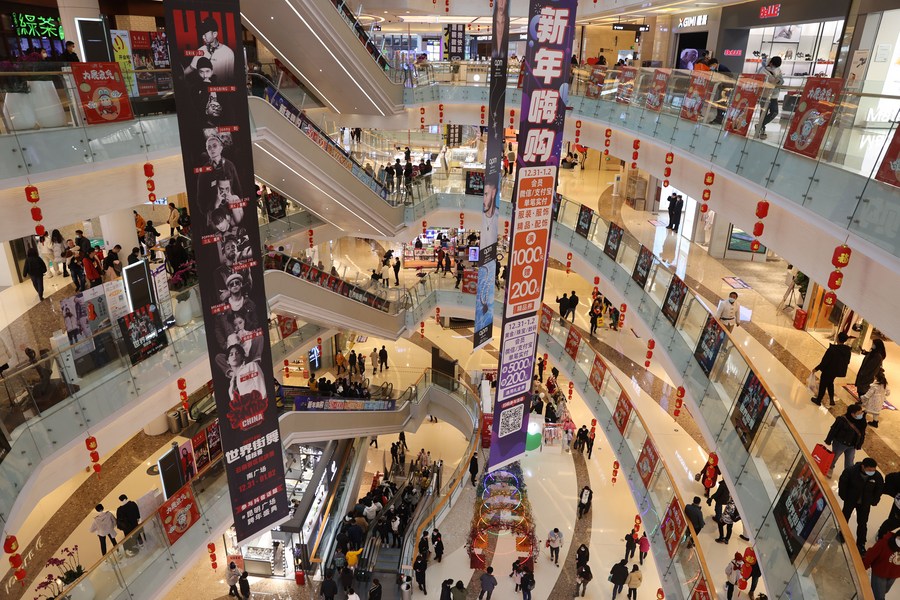 Consumers go shopping at a shopping mall in Kunming, southwest China's Yunnan Province, Jan. 1, 2023. (Photo by Liang Zhiqiang/Xinhua)
  China recently announced that it would downgrade its management of the infectious disease of COVID-19 from Class A to Class B, starting from Jan. 8, 2023 -- shifting the focus of the response from stemming infection to caring for infected patients and preventing severe cases.
  Accordingly, domestic and foreign airlines will operate scheduled passenger flights under bilateral transport agreements -- with limits on flights no longer applicable. Closed management, nucleic acid testing, and quarantine measures for inbound flight crews and related airport personnel, will be removed.