China's industrial profits shot up by 4.1% in 2020
2021-02-18 | chinadaily.com.cn
Profits for China's major industrial enterprises edged up 4.1 percent in 2020 from a year earlier to settle at 6.45 trillion yuan (about $1 trillion), official data showed Wednesday.

Major industrial companies in the country refer to those with an annual business turnover of at least 20 million yuan from their main operations.
Data from the National Bureau of Statistics (NBS) showed the December profits of major industrial enterprises reached to the tune of 707 billion yuan, skyrocketing 20.1 percent from a year earlier, and the growth rate was 4.6 percentage points higher than the reading registered in September.
The profits of major industrial enterprises dropped by 36.7 percent in the first quarter before reversing a downturn trend to 4.8 percent in the April-June period. The closely watched gauge then picked up the pace to grow 15.9 percent in the third quarter through to September.
"As large-scale tax cuts and fee reductions were rolled out to help smaller firms tide over difficulties, the vitality of various market entities has been boosted and the profits of industrial enterprises under diverse ownership were comprehensively improved," said Zhu Hong, a senior statistician at the NBS, in a press release.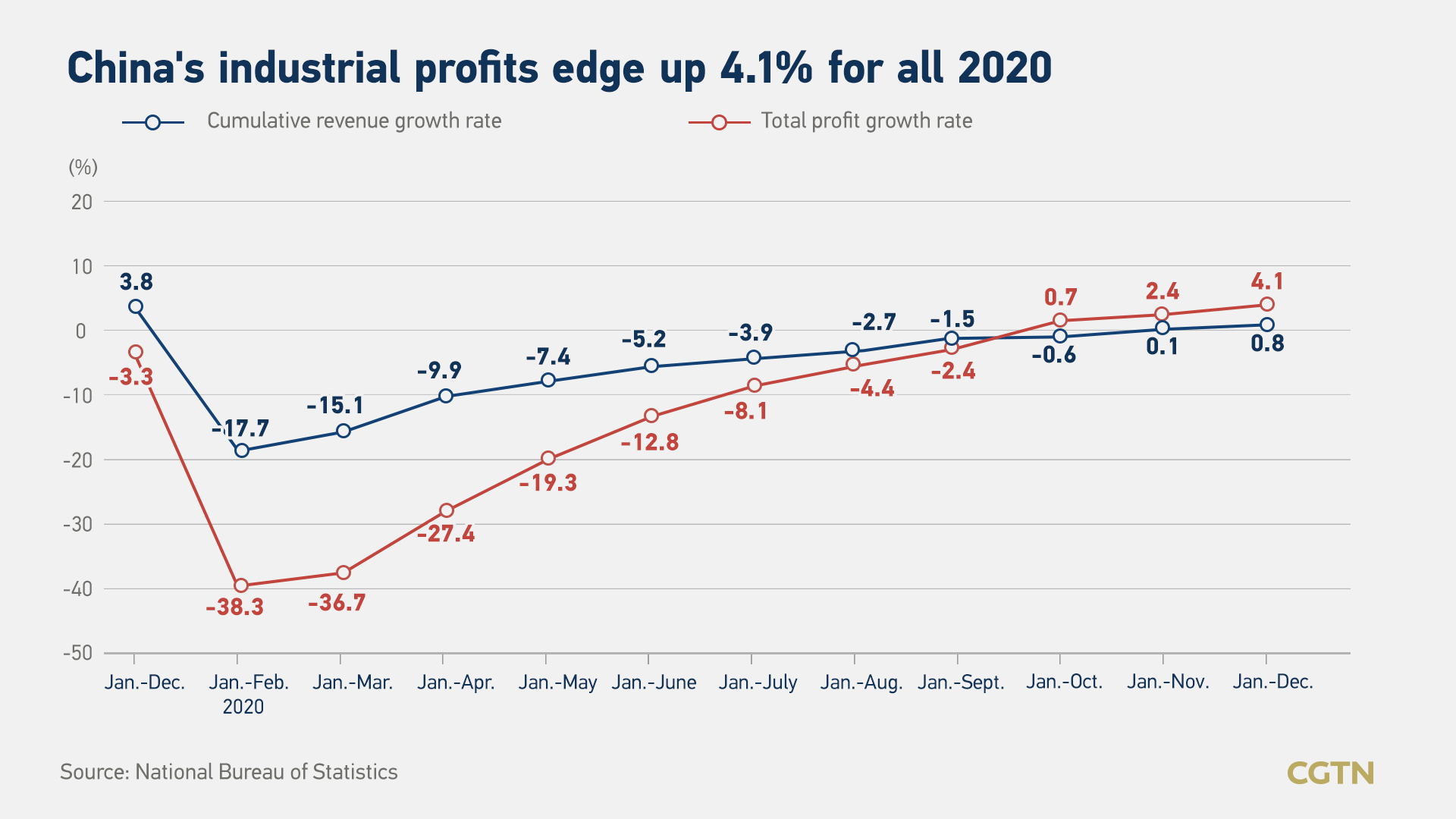 The manufacturing industry's 2020 profits ticked up 7.6 percent over the previous year, 6.5 percentage points higher than the previous three quarters and dwarfing the growth rate of major industrial enterprises by 3.5 percentage points, according to Zhu.
Among the 41 industrial sectors under the NBS measurement, 26 saw a quickened rise in terms of profits for the full year, while 15 sectors encountered a downtrend in profits.
China's economy grew by 2.3 percent in 2020, the only major economy to see positive growth in a world ravaged by the pandemic. The International Monetary Fund projected Tuesday that China's economy is to expand by 8.1 percent in 2021.
The profits attained by private enterprises climbed by 3.1 percent year on year, as compared to a 0.5-point tumble from January to September.
Wednesday's economy round-up also showed profits of consumer goods manufacturers moved upward by 5.1 percent for 2020, 0.7 percentage points faster than that in the first nine months.
The profits of coronavirus pandemic-related papermaking and pharmaceutical industries shot up by 21.2 percent and 12.8 percent, respectively, with the growth rate coming in at 7.9 percent and 4.6 percent faster than the previous three quarters.